Go Paperless!
NEW YEAR, NEW EXCITING BILLING FEATURES!
Law Security has had a major billing program update with some exciting new features!
– You can now view your invoices and payment history online. (from Jan 2016 forward)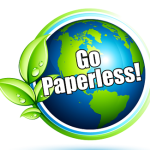 – You can edit your billing address and contact numbers for billing purposes.
 – You can set up recurring payments online through your customer portal. (don't forget to select this option when filling in your payment info)
 – You can now go paperless and switch to e- billing! (Please submit the form below)
Haven't registered on our online portal yet?
1. Go to https://lawsecurity.alarmbiller.com (or select the Pay Bill Now banner at the top of every page)
2. Select "NEW CUSTOMER REGISTRATION" (below the login form on the right)
3. With your invoice in front of you, fill out the registration form. Your registration key is on the  bottom-right side of your invoice.
4. Check your e-mail to finish your registration.